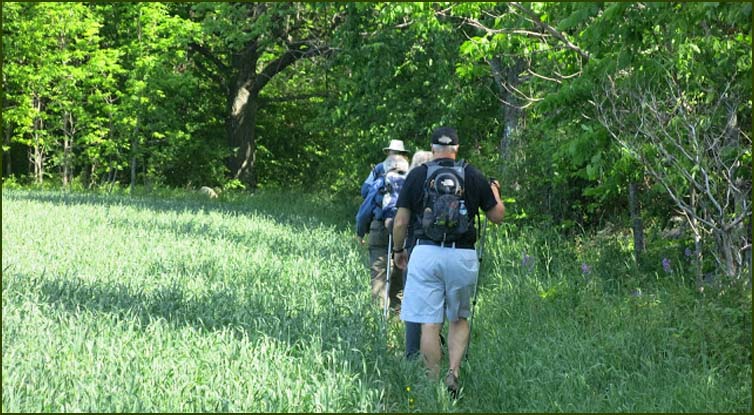 | | |
| --- | --- |
| We continued west and then turned right on the Deviation Road where we met two people who where checking the conditions of the trail and they were painting the blazes. They had come up from Guelph. They mentioned that the bridge which we were coming up to had been repaired last year. After chatting a while we continued a short distance on the road and turned left into a grassy field and then entered a woods before crossing Rocklyn Creek. | |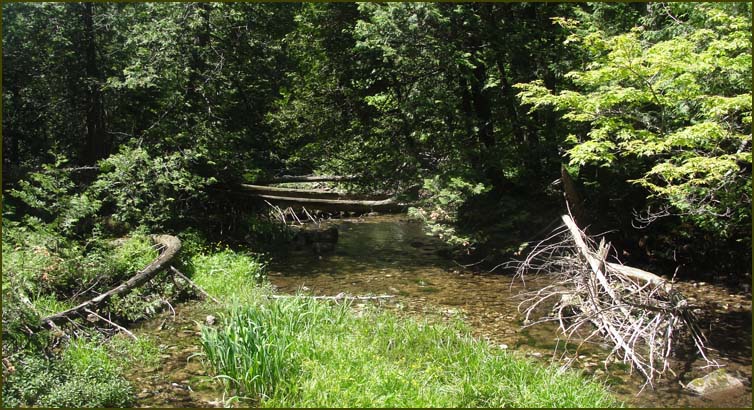 We hiked over a long boardwalk and then climbed steeply to a wooded ridge. We crossed over another boardwalk over a sap line past fields before entering a young forest.

We crossed a rolling field with a view to the north. After following a ridge for a short distance, we turned abruptly right and descended steeply until we were parallel to Rocklyn Creek. In one of the many crevices we saw two baby foxes (no pictures) and continued on until we exited at Vincent-Sydenham Townline.

We turned left and followed the road for 700 m to a lookout. At the top we had our lunch.

We turned right at the top of the hill into the Walters Falls Conservation Area along an Escarpment ridge, descending into the valley before heading west to Grey Rd. 29. We crossed the road and turned left along a path that runs parallel to the road for 100 m. We entered a meadow and turned left once more crossing Grey Rd. 29. We then crossed Sydenham-Holland Townline and descended to the right into the river valley of Walter's Creek. We entered a cedar forest along the riverbank and climbed a cart path to the scrap edge where the valley narrows. We left the forest at the Falls Inn and passed through its parking lot to a viewing area a the very brink of the falls. The woolen mill is still standing today.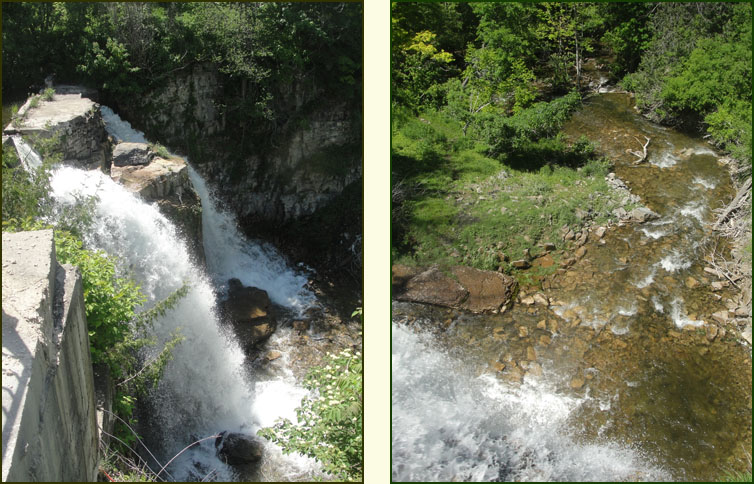 We crossed the road and entered the Walters Falls Management Area. We followed close to the riverbank and meandered through a beautiful forest past huge stands of beech trees.


We turned left and climbed a hill following a fence line to the 2nd Concession S which is the highest point in the area and offers good views out over the Bighead River Valley. We followed 2nd Concession S to our car to the end of the hike.