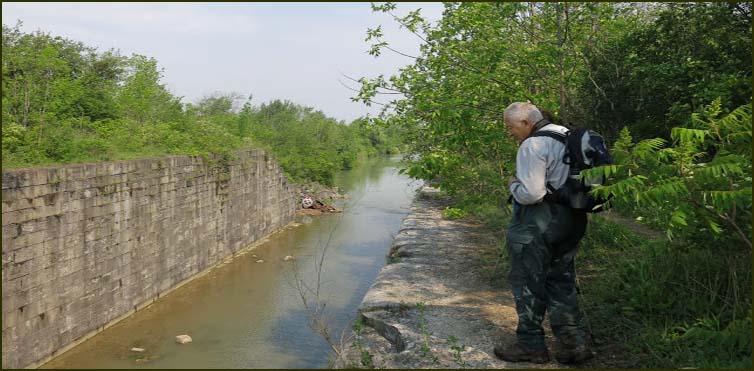 We then followed an abandoned roadbed to the Third Welland Canal (1887 to 1931). After a short climb we continued northeast for about 1 km along the banks of the Third Welland Canal. This canal was built in 1887 and replaced in 1931 by the fourth Welland Canal.

At Glendale Avenue we crossed the Glendale Bridge over the Fourth Welland Canal.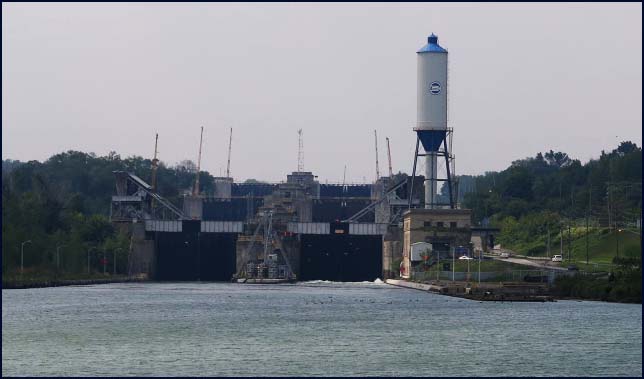 View of the Twin Flight Locks from the Glendale Bridge.
We then entered the Greater Niagara Circle Route (GNCR) which is a multi-use trail and followed the GNCR under the CN Rail tracks. We turned right into a light bush and crossed a spur line before entering a denser bush behind a new subdivision. We took a sharp turn up another spur-line embarkment and crossed the tracks into another bush. We paralleled the tracks for 300 metres to a sharp incline to Merritt Street.


We crossed Ball Avenue over a small concrete bridge and continued to an old chain-link fence which we followed over a steel bridge crossing the Second Welland Canal (1845-1915). Here we met the Merritt trail which we followed for 500 metres to Glendale Avenue. We turned left under Highway 406 to Tremont Dr, were we stopped at Tim Hortons for our lunch. As we ate lunch the skies got darker and before we left it rained heavily for a short period of time.

We followed the north side of the Brock University campus and then headed along the edge of escarpment. We continued along the escarpment edge to the hydro property above the outskirts of St. Catharines. We followed the fence along a hydro canal and then turned left over rough ground onto a gravel road.

After 600 metres we turned right into the forest. We crossed two bridges winding through scrub land, on a very muddy trail, to the eastern side of Lake Moodie and hiked along the water's edge to the east side of the DeCew Rd. Bridge. Along the way we came across a painted turtle on the trail.

We crossed the bridge on Moodie Lake on our way to DeCew House Park where we had parked the first car. We picked up the other car from Woodend and drove home.