Just before King St goes under the tracks the trail follows Woodley Lane in past the Dundas Valley Golf and Curling Club. Back in the woods, we had our "Elevenses" close to the intersection with the Davidson Boulevard Side Trail. As we continued to parallel the CN lines we met an Iroquoia Club volunteer work crew complete with chain-saws doing trail maintenance. The trail entered the Dundas Valley Conservation area and we followed the McCormack trail out to Governors Rd.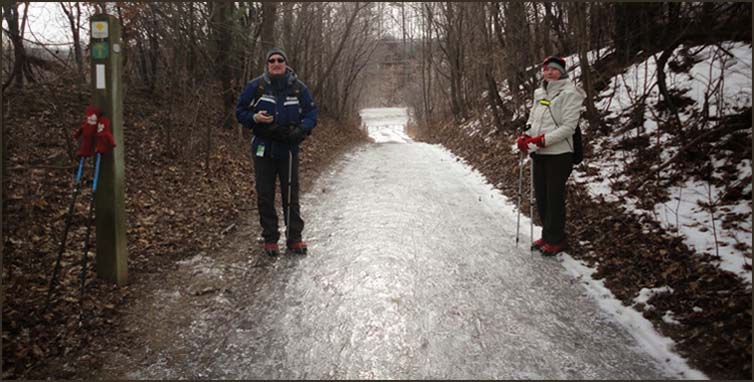 Skates or Icers (our preference) were the best gear for these trails. Once on the south side of Governors Rd we re-entered the Conservation area after a steep up and down through private land. We had deer sightings as we followed the Nordic ski loops.

We continued past the Sulphur Spring (some tasted the waters!) and over Sulphur Creek. The trail then goes past the Hermitage Ruins now fenced off for safety. After crossing the Hermitage creek we looked back at the waterfall on private land. Then the Bruce follows the Heritage trail and then bears left taking us to the Canterbury Falls and Little Canterbury Falls.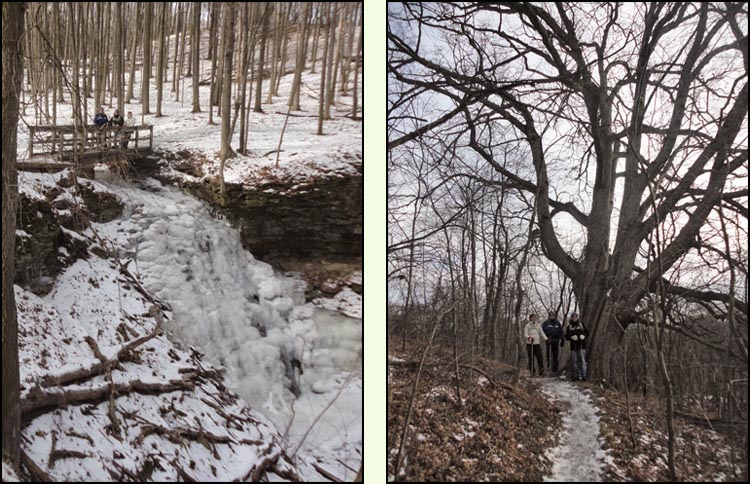 One last deer sighting and a perilous descent of ice coated steps to the Sherman Falls Access Trail and we were back to the 2nd car. The icers had done their job, final result zero falls and no submissions! We stopped at Timmies at Clappisons Corners before driving home.