The following is a history, in genealogical format, of the descendants of Phillip & Margret RUMIG , as far as I have been able to compile to date. It starts with Phillip, born in 1784 in Germany , who with at least three sons immigrated to Waterloo County in Ontario where they took out Canadian citizenship in approx. 1840. Phillip, his three sons, Philip, Joseph and William came to Carrick Township, Bruce County during the 1850's.
Philip RUMMIG Jr., born 1811 in Germany, married Frances KAISER; they apparently had five children and lived in Carrick Twp. No further generations of this family have been compiled to-date. Jim GREGG in the Diary of Sadie Estelle ROUMEY provides the following description of the Rumig migration to Bruce County .
Phillip Rummig, born in Germany in 1784 came to Canada with three son about 1840 and became a Canadian citizen in 1841 at Berlin ( now Kitchener ). His son William born in 1827 married Louisa Reisch and farmed first in Brant Township, later taking the crown deed for Lot 9, Con. 12, Greenock Township. William and Louisa had four sons and one daughter. Their eldest son Joseph married Mary Jane Reid whose father, John Reid and his wife Eliza Jane McCully had taken the crown deed for Lot 9, Con.13, Greenock Township .
Joseph and Mary Jane purchased the West 1/2 of Lot 6, Con. 13, Greenock Township and raised a family of ten children, four sons and six daughters. The family lived in a two-storey log house with a board lean-to until 1899 when a white brick house that still stands was built. This branch of the family changed its name to Roumey.
Joseph RUMIG , born 1820 in Germany, seems to have dropped one 'M' from his surname. He married Maria and they had at least five children and lived on Lot 11, Con. D of Carrick Township, Bruce County. The eldest was Caroline, born in 1849; John, born in 1850; Catherine, born 1853, Maria, born 1855; and Elizabeth , born in 1859, married Stephen BROSS . John is the only one I have additional information on, he married Agatha KOCHER and this family has been very thoroughly compiled, thanks to Mrs. Rita Schill in her genealogy of the Ludwig KOCHER and Eva MEYER Family.
William RUMIG , born 1827 in Germany , married Louisa REISCH . William bought Lot 5, Con 2 SDR of Brant Township, Bruce County, from the Crown and was living there at the time of the 1861 Census, by 1871 the family was living on Lot 9, Con 12 of Greenock Township, Bruce County. William and Louisa had four sons: Joseph, born 1852, married Mary Jane REID ; John, born 1861; William, born 1866; and Christopher, born in 1869. Frances, the only daughter was born in the 1870's after Louisa left William and moved back to her own family. William's second wife was Mary Jane FOUNDER and they had a family of three sons; Arthur, born 1876; Adam, born 1878; and James S., born in 1879. With the exception of Joseph, it is believed William and his family moved to Michigan circa 1881 where the family name changed to ROMEY .
Jim and Kay GREGG researched the family of Joseph RUMIG and Mary Jane REID . Thanks to their work this branch of the family is as well documented as it is. Before the turn of the century this family changed their name to ROUMEY .
Joseph and Mary Jane lived on Lot 6, Con 13 of Greenock Township, Bruce County Ontario. The original RUMIG house is shown on the left.
Sadie Estelle ROUMEY 1890 - 1917 kept a diary for several years. These diaries are in the possession of the PILGRIM Family since Sadie CAMERON-PILGRIM was her daughter. Jim GREGG has transcribed these diaries and you can be read
Sadie's Diary
.

The following pages are a compilation of the descendants of this family, but this genealogy is by no means complete and ultimately I hope to uncover more information about the RUMMIG , RUMIG , ROMEY and ROUMEY families. Meanwhile I would be pleased to hear from all of those reading these pages that recognize errors or omissions or have additional information that could be used to further enhance this history.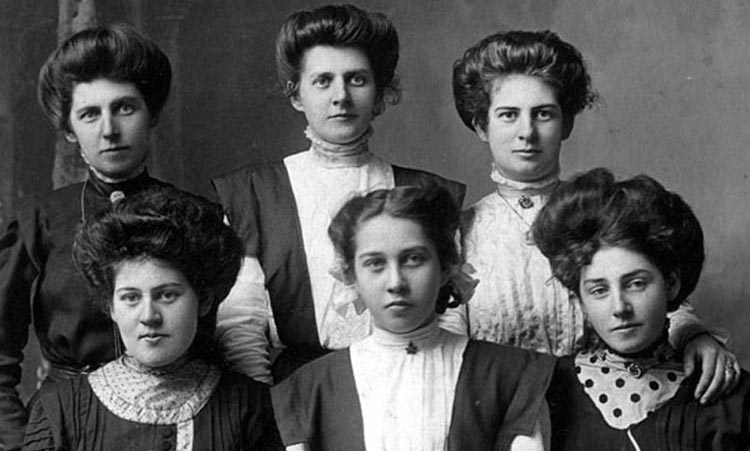 Joseph & Mary Jane ROUMEY's daughters
Back Row: Louisa "Lou", (1887-1952) married Daunt
METCALFE
lived in Greenock Twp.
Elizabeth Jane "Bess", (1882-1996) married George SAWYER moved West.
Frances Luella, (1888-1911) married Nelson FLETT, lived in Greenock Twp.
Front Row: Lila Maud, (1892-1987) married Colin
MORE
in Manitoba
Ida May (1896-1988) married James
GREGG
and lived in Greenock
Sadie (1890-1917) married Alex CAMERON and lived in Michigan.

Sons in this family:
Albert b. 1874 and apparently died before 1881.
John (1879-1950) married Rebecca "Bec"
ALEXANDER
and lived in Eden Grove.
Sam (1881-1952) married Louisa
MORE
and lived in Manitoba.
William Albert (1884-1961) married Maud PARKER and lived in Bruce County.
Harvey (1886-1956) married Maybelle BAKER and lived in the United States.