Descendants of Capt. David & Agnes Ann VALENTINE
David Valentine entered the Navy in 1779 as an Able seaman and served on several ships then was promoted to Lieutenant in July 1793. His first ship as a Lieutenant was the Seagull, then he was transferred to the Thames under Capt. Cotes. In October of that year, they were involved in a battle with the French frigate Uranie, he was wounded and taken prisoner and spent two years in a French prison. He was freed in 1795 and promoted to Lieutenant Commander in 1804. He married Agnes Ann Valentine youngest daughter of David Valentine and Mary Smith in 1809 at St. Pancras Old Church, London.
Two of their sons emigrated to Canada, John VALENTINE, pictured below, was one of the first settlers in Paisley, Bruce County, Ontario.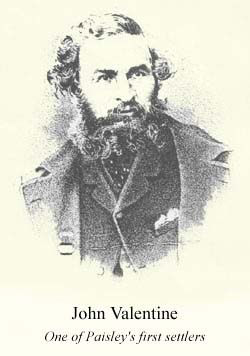 John Valentine was a native of Montrose, Scotland, when he was born in 1817. He came to Walkerton in 1851 and opened a store in partnership with George Jardine. Securing a mill privilege on the Teeswater River, at Paisley, he built a saw-mill there in 1852 and a grist-mill in 1855 or '56. His family resided at Southampton at first, but from 1855 they lived at Paisley. Mr. Valentine's property was largely in Greenock, and he filled the office of reeve of the township for six years. Mr. Valentine held a prominent place in the County Council, which in 1859 elected him warden of the county. His public life bore a clean record, while as a man he was highly esteemed. His death occurred August 12th, 1872.

---
Table of Contents
Descendants of Capt. David VALENTINE
Surname List
Index of Names
Sources (Bibliography)

---
Contact Information
Send mail to:



| | |
| --- | --- |
| Contact us by E-Mail | Please note: The majority of the data has been compiled from many different sources on the internet and the information is only as good as what has been input. Information is corroborated where possible. |


Latest Revision September 27, 2014