Descendants of William LAMB & Mary BROWN
The Descendant Journal is a history, in genealogical format, of the descendants of William LAMB , born circa 1763 and Mary BROWN, born circa 1753, as far as I have been able to compile to date. William and Mary had seven children. Agnes, married William DAVIDSON, Ann married John
MACKIE
, William married Christian KNOWLES, Susan married George JOHNSTON, Lewis married Elizabeth ??, Mary married Alexander
CATTO
. Their youngest son, Alexander married Elizabeth
BARRON
in Foveran, Aberdeenshire, Scotland in 1822, and lived in Logie Buchan, Aberdeenshire, Scotland, where six children were born to them.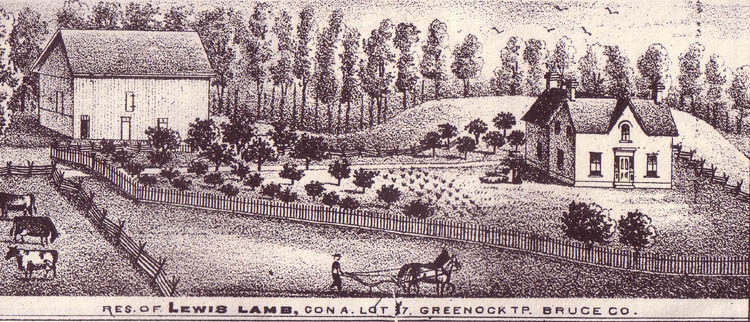 In 1852 Alexander and Elizabeth's eldest son, Lewis (1822-1914), set out for Canada . He first made his home with his aunt Catherine
BARRON
and her husband John
BROCKIE
in a settlement called Bon Accord, Nichol Township, Wellington County, near Elora, Ontario. In September of 1854, Louis, along with his cousins, William, George and John Brockie and several others set out for the valley of the Saugeen. He chose to settle on Lots 36 & 37, Con A of Greenock Township, near the present day town of Paisley, in Bruce County. This adventure was described thus in William BROCKIE's obituary in the Paisley Advocate of Nov. 1905:

On the 7 th of September 1854 , William
BROCKIE
, along with two brothers, George and John, his cousin Louis LAMB, David
BLACK
, James
DAVIE
, and one or two more, who were desirous of seeing the country, bade goodbye to the old folks at home.

We set out, says one of the two surviving members of this little party of pioneers, for the valley of the Saugeen, at that time the great north-west of Ontario , whence all looking for land were traveling. Some believed it was the last land in Canada upon which man could live. After traveling to Durham, to Walkerton, and navigating the Saugeen River, which took all of the attention of the man at the helm, we at last arrived at Orchardville, now Paisley, where we all received a hearty welcome from the late Mr. John
VALENTINE
and the late Mr. Sam
ROWE
. All the company settled in the Gore of Greenock and went to work full of hope of being lairds of the land they had taken possession of.

In 1854 Alexander and Elizabeth, along with the rest of their family, emigrated from the old country, first settling in with the BROCKIES at Bon Accord until 1858 when they moved on to Bruce County and the home Lewis had prepared for them on the Base Line of Greenock Township.

The eldest daughter, Catherine (1823-1901), married William
CRUICKSHANK
, in Logie Buchan Aberdeenshire. They purchased the south half of Lot 2, Con. 15, Greenock Twp. From Catherine's brother-in-law, George LEASK and raised two sons on this farm. Lewis, married Mary
FLETT
, and later married Elizabeth
KERRY
. John married Elizabeth
FLETT
, a sister of Mary's. Three children, Alexander, Ellen and Jennie died in infancy.

Barbara LAMB (1830-1879) married George
LEASK
of Aberdeenshire, Scotland. George, one of the original settlers along with Lewis LAMB, acquired Lots 1 & 2, Con. 15 from the Crown and lived on the Base Line raising a family of eleven. Alexander married Mary
ARMSTRONG
, John moved to Australia where he married Janet KYLE, George married Sarah McDOUGALL and lived in Muskoka, Susan (Mrs. Robert
BROWN
), Elizabeth, Jacqueline (Mrs. John
ARMSTRONG
, John being a brother of Mary's), Mary Ann (Mrs. William
DALGARNO
), Agnes (Mrs. John BROWN), William married Lillie BELL and remained on the home farm, Jim moved to Alberta and Catherine, the youngest died at age seventeen.

Susan (1833-1920) and Jane (1836-1925) never married and lived on the home farm with Lewis after their parents passed away. Jane raised a son George who later married Hellen
TAYLOR
.

William (1839-1921), the youngest son, stayed in Nicol Twp and worked for the BROCKIES after the rest of the family left for Bruce County . In 1864 he also moved to the home farm where in 1877 he married Catherine
TAYLOR
, who recently came to Canada from Ellon, Aberdeenshire, Scotland, with her uncle David
BLACK
. They moved into the original log cabin built by Lewis after he constructed the house that still remains on the farm today. To them were born seven children, David the eldest never married and remained on the home farm until 1946, Bill moved west and married Lottie CUDNEY, Susan married William
ALEXANDER
and they also went west, Maggie married Harry BAKER and lived in Alberta, Catherine, better known as 'Kit', married Marshall
WATSON
, and her twin sister 'Lizzy' married Jack
KINCAID
.

Fortunately Catherine TAYLOR-LAMB maintained a wonderful family photo ablum that we still have today.
Click here to see Granny Lamb's
Photo Album
.

The Pedigree Chart below is a portion of a larger chart encompassing all the known Ancestors of Katherine Louise WATSON, daughter of John Mrshall "Jack" WATSON and and Florence Mae METCALFE. She was born and raised in Greenock Township, Bruce County, Ontario, Canada.
The current Descendant Journal contains as many desendants of the captioned couple as I have been able to idetify todate. William LAMB b1763 below is as far back as we have researched to date.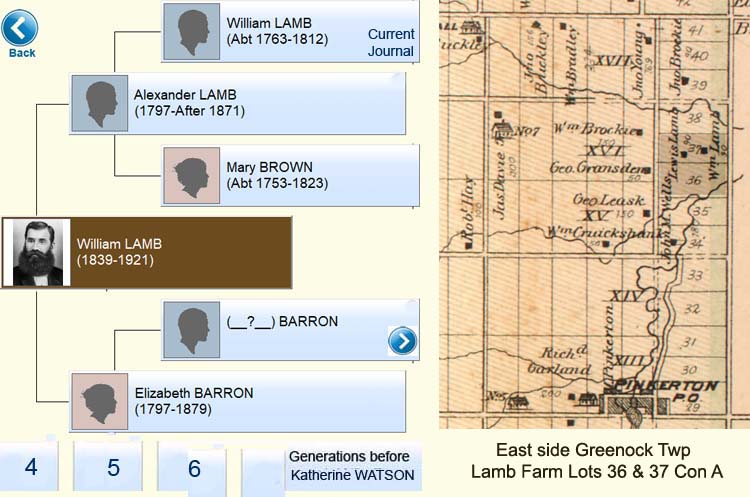 The home farm has been in the LAMB family for over 150 years, having been handed down from Lewis to William and then to David LAMB . David operated the farm with his sister Lizzy and her husband Jack KINCAID and he sold to Jack WATSON, son of Catherine 'Kit' LAMB - WATSON in 1947. Upon retiring to Paisley in 1979 Jack handed the farm over to his son Robert WATSON who operated the farm until 2012 when it was sold to Ontario Hydro.


This Descendant Journal is a compilation of the descendants of this family, but this genealogy is by no means complete and ultimately I hope to uncover more information about the LAMB family in Scotland . Meanwhile I would be pleased to hear from all of those reading these pages that recognize errors or omissions or have additional information that could be used to further enhance this family history.

---
Table of Contents
Descendants of William LAMB
Surname List
Index of Names
Sources (Bibliography)

---
Contact Information
Send mail to:



| | |
| --- | --- |
| Contact us by E-Mail | Please note: The majority of the data has been compiled from many different sources on the internet and the information is only as good as what has been input. Information is corroborated where possible. |


Latest Revision May 15, 2021