The Paisley Tartan
From the Paisley Advocate Nov. 3 1960.
As the result of a visit to Paisley in the summer of 1960, a Michigan couple Mr. and Mrs. Duncan Gillies, former residents of Paisley, Scotland, became interested in Paisley, Ontario. They wrote to their former newspaper, The Paisley Pictorial, which reproduced the story of their visit to Paisley, Ontario. J.S. Deans the editor of the Pictorial, wrote to the Advocate to advise that a well-known weaver of his town was working on a plaid to be presented to this town.
A plaque featuring the crest of the Town of Paisley, a gift. of the Scottish town and the Paisley Tartan arrived in October 1960. The plaque is an official gift from the Provost and Council and bore warm greetings to the Council and citizens of Paisley, Ontario. It was appropriate that these gifts should arrive at the time the new council chamber was completed. The plaque, draped by the tartan, adorns a wall of the Council Chamber. With the tartan came a terse message:
With the compliments of Allan C. Drennan.
"If ye have ony Scots blood in yer veins,
An' your heart disna warm tae the Tartan,
It's as cauld as death can mak it".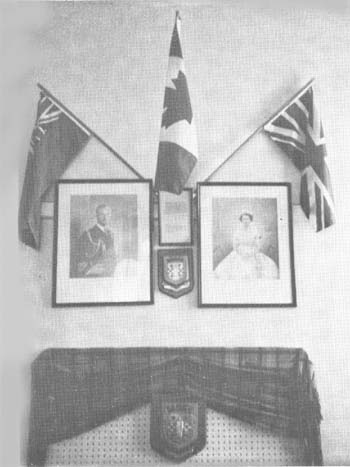 The Tartan as it appears on the wall of the Paisley Council Chamber
The Paisley Centennial Choir will display the tartan in the form of sashes for the ladies and ties for the men. The tartan material was obtained directly from Scotland, especially for this occasion.