The highlight of the village's Centennial celebrations took place on June 17, 1967. A steady downpour of rain which fell during the day, did not dampen the spirit of the largest crowd in many years to gather on Paisley's main street. The parade of floats well over a mile in length, required an hour and a quarter to pass. Themes of the floats were widely diversified, depicting striking comparisons between the present and the past.

A Detroit resident, passing through the village at the time, stopped to view the floats, and in a call to the Advocate office requested a copy of the paper that would record the celebration taking place. She remarked, "It is simply remarkable that such a tiny community can stage such a remarkable display".

The most important event of the day was the official opening of Paisley's Centennial project, a new Public Library building. Reeve George Grant of Paisley and Reeve Arthur Teasdale of Elderslie Township cut the ribbon to open the Library. A plaque in the building was unveiled by Eric Winkler of Hanover, M.P. for Grey-Bruce, and Stuart Forrester of Paisley, representing the warden who was unable to attend. Also taking part in the ceremony were John Murdoch, chairman of the Library Board, and Beverly Lustig, chairman of the Centennial Committee.

Construction of the library was made possible by a bequest of the late ]ames Steele, the township of Elderslie, the village of Paisley, the province of Ontario, and the government of Canada.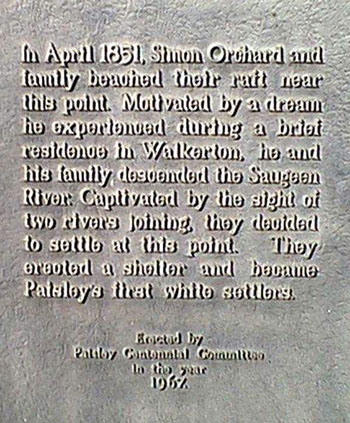 Paisley Rotary Club accepted responsibility of the project of floodlighting the Boettger Dam at the confluence of the Saugeen and Teeswater Rivers in the centre of the village. Though no government grant was available, the floodlighting was accepted as a centennial project, secondary to the construction of the Centennial Library. Through the help of donations this project was completed and the lights were turned on in 1967.

Many interesting heirlooms were on display in store windows and in the Oddfellows' Hall. Church services, dedication ceremonies, variety concerts, crowning of a Centennial Queen (Patricia Anderson), a beard-growing contest, and dances all contributed to make "Centennial Year" a memorable occasion.