Memories
P. Goldie, in writing to the special silver anniversary of the Paisley Advocate, Feb. 20, 1890, states: "One of the pleasant enjoyments of the writer in the olden days of twenty years ago was his connection with the brass band. He cannot forget the enthusiasm exhibited when that musical body played its first number on the street and held its first concert in the drill shed at the east end of the Saugeen River."

Do you remember, as the old Town Hall does, when it was the centre of all entertainment and community activity including: formal and fancy-dress balls; modern and old-time dances; Christmas concerts put on by the schools and the Sunday schools; silent movies; medicine shows; week-long concerts featuring Various kinds of high-class entertainment put on by the Chautauqua Company of entertainers; amateur drama productions directed mostly by Mrs. Ballachey; minstrel shows; the lovely musical operettas presented by the choir of Knox Church under the capable direction of Mrs. Fennell; the local orchestras which provided music for concerts and for intervals between acts of a play; how you constantly shifted position on the straight-backed benches in spite of the caliber of the performance on the stage; when you first were aware of the brilliance of the footlights of the stage; as a youngster you sat in the "front seats" and played "I spy" when the elaborately-painted stage curtain with its many vistas was in the lowered position; when you were first allowed to sit in the balcony; winter short courses sponsored by the Department of Agriculture; nomination meetings so well represented that it was necessary to use the auditorium in place of the council chamber; as a member of the Boy Scout Troop you attended meetings here; "the" Jessie McDonald who put on vocal concerts.

- Do you remember when ...... Miss McCallum wanted a clock for the library and staged a concert to get it. And Bart Raynor's orchestra from Southampton, when he played for dances. The boys and girls band concert in 1956.

- The dance recitals of the same era. - The Dominion Life Choir Recitals.
- The 1967 Centennial Youth Choir Concerts, directed by Mr. Lewis Coffman.
- The variety concert sponsored by the District Women's Institute in 1967.
- The nostalgic feeling to see the hall packed to capacity for the Legion
- Auxiliary Old Time Variety concert in 1973, and again in 1974.

For many years, music for old-time dances, concert intermissions and general entertainment was furnished, usually, by a piano - violin duo. Sometimes traps and guitar would be included in the set.

Alice Watson, pianist, accompanied, at different times, these violinists: Danny McLean, Bill MacDonald, Stewart Muir, Bill Cruickshanks, Willard Metcalfe, and Millard Craig.

Donald Jacques played the traps on occasions. Another combination was Walter Spong (violin), Merle Spong (guitar or piano), and Alice Watson (piano).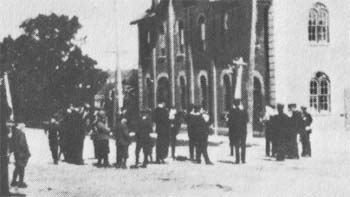 "Talent within the church was sufficient for an orchestra. It was comprised of Mrs. McMillan, Miss M. Logie, Miss D. Carlaw, Mr. J. Logie, Mr. George Grant, Mr. Donald Elwes and Mr. George Woelfle".

In this review of music in Paisley there will, no doubt, come to readers' minds others whose names have been overlooked from this survey. We also pay tribute to their contributions.