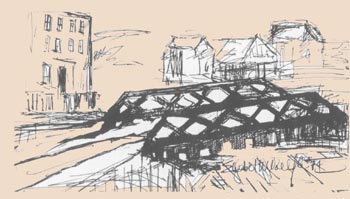 In 1851 Simon Orchard built a wooden bridge over the Teeswater River. As near as we can gather the course of the river was not as it is today and this bridge spanned an area from the site of the town hall, north to approximately where Howe's Garage now stands. In 1859, Simon Orchard also built a wooden bridge across the Saugeen River on Goldie Street. In 1895 the two-span steel bridge was built over the Teeswater River and in 1935 this was replaced by the present cement bridge. The five concrete beams carrying the roadway were limited to seven feet in height in order to clear the high water mark. This required a special type of design. The two end spans were built as cantilevers in order to counterbalance to a great extent the huge weight of the unusually long centre span.

In 1891 a two-span steel bridge was built on Goldie Street over the Saugeen River. The cement abutments at the town hall end were rebuilt about 1920, by the late Mr. Jas. McKinnon. His workmanship proved to be so superior that it took the workmen in 1972, with all their improved equipment, days longer than anticipated to remove them. In 1972, the "George Grant" cement structure replaced the old steel bridge.

The first wooden Rae's bridge was built at the time of the land sale in 1854. The old steel span bridge was built in 1893, and it was replaced by a cement structure built in 1958, known as the Forrester bridge, named in honour of David Forrester who had been clerk of Bruce County for twenty-nine years.

The present Willow Creek Bridge was built in 1958, replacing an iron one of the 1890 era.

At Stark's a long cement bridge was built in 1958, which replaced a small cement bridge built in 1908, and a double iron structure bridge built prior to that. Another cement bridge over the mill race was built in 1927, replacing an old wooden one.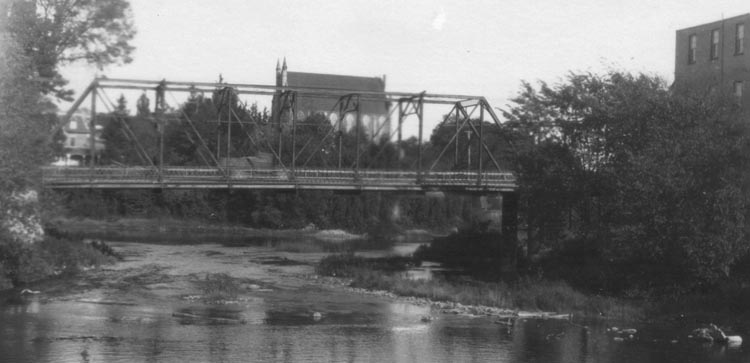 The Iron Bridge across the Teeswater