Hockey was the Game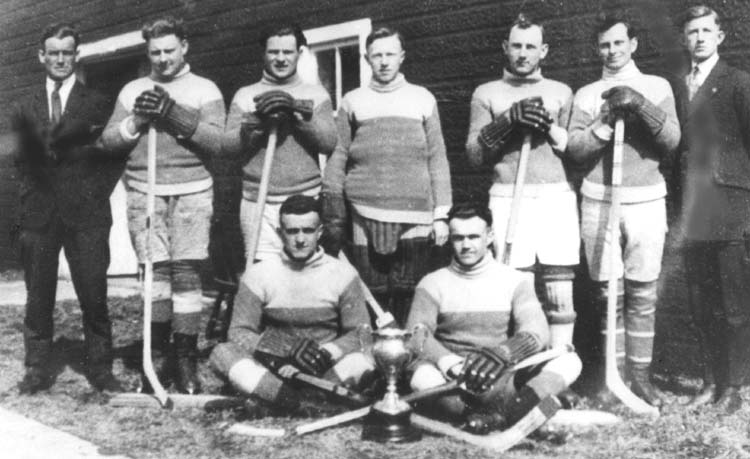 Paisley Seniors (1922)- Northern Hockey League Semi-Finalists 1920-21-22
Left to right; Manager Jim Forrester, Alan Shoemaker, Charlie Murcar,
Farewell Fletcher, George Grant, Don Elwes, Slim Sivyer (sic)
Seated; Bill Stanley, Ab Stanley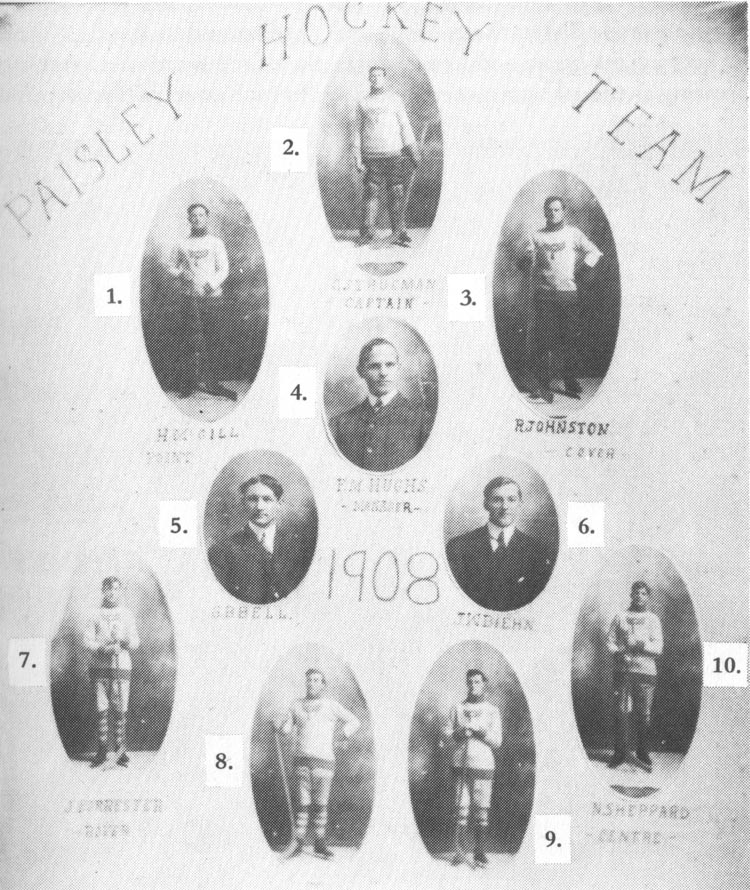 Paisley Hockey Team - 1908
1. H. McGill - Point, 2. C. Strueman - Captain, 3. B. Johnston - Cover,
4. F. M. Hughes - Manager, 5. G. B. Bell, 6. J. W. Biehn, 7. Forrester - Rover,
8. A. A. Sinclair - R. Wing, 9. W. McCuthcheon, L, Wing, 10. N. Sheppard - Centre.
Hockey was the Game
By Ross McKenzie

Our introduction to the game of hockey in Paisley was on the frozen surface of Willow Creek away back around the era beginning about 1912, when we recovered an old elm stick that had been finally discarded by an older brother after he had used it in ice battles for two or three years. In those days, sticks were made to last: made of heavy wood, in one piece, they just didn't break, but after being left out in the wet for perhaps days at a time, they tended to warp into odd shapes, and eventually became so distorted their owners just tossed them aside and if they managed to scrape up the necessary cash (from 25¢ to $1.00) would go buy a new one at the hardware store.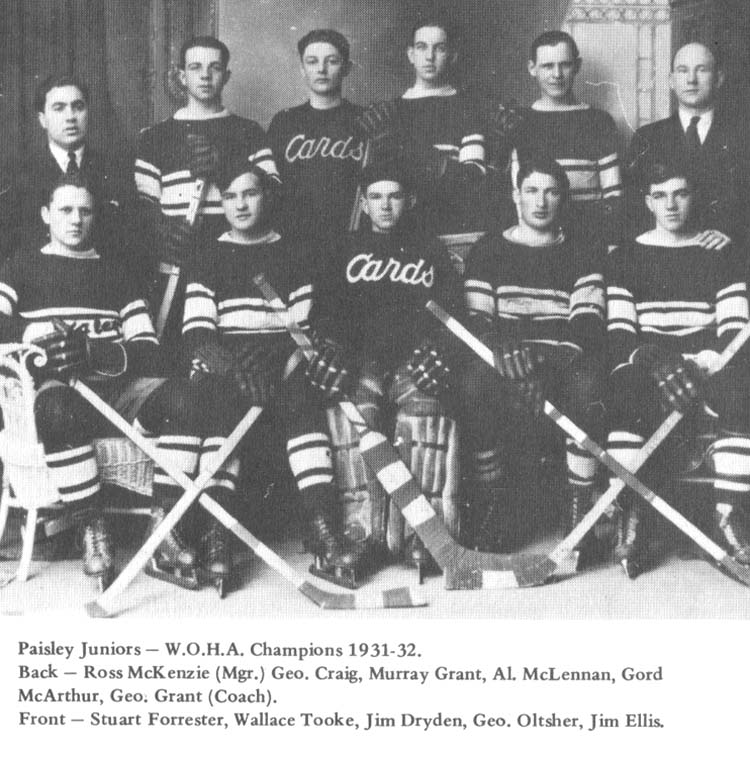 The younger element in Paisley played their version of hockey on the ice covered creeks, the Saugeen and Teeswater rivers, with a favorite spot, the Fisher's mill pond. It was always one grand scramble to get near the puck (if we had one of those hard rubber things) but more often the gangs of thirty to forty or more youths would make do with a frozen 'horse bun' salvaged off the roadway where horses were constantly on the move.

In order to have a chance of playing the puck (or whatever), it was necessary to learn the basic fundamental of hockey as it was played in those days. The skill required was simply stickhandling. If you failed to master that basic, then you just weren't in the game .... you just were a skater, and not quite too proficient at that simple skill, either.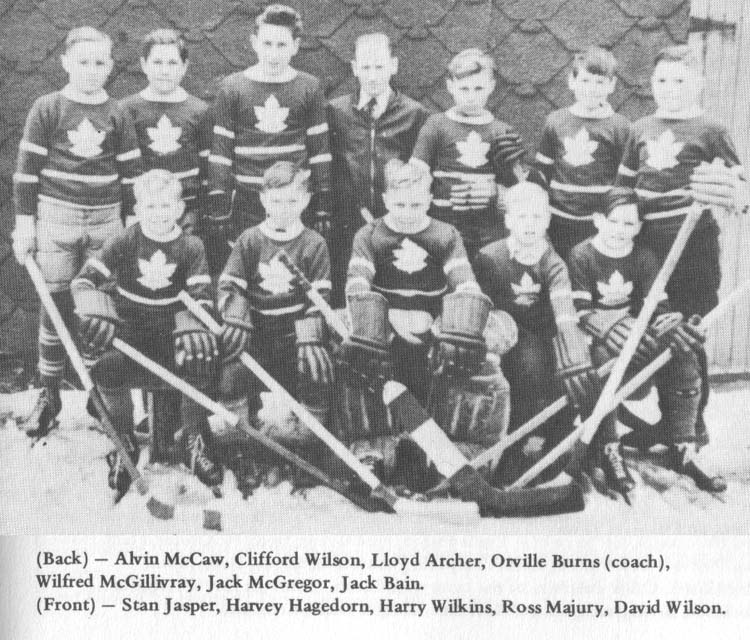 After the matter of starting out on the icy streams, one graduated to playing in ]im Dewar's somewhat cramped skating rink, which also served as the community's hockey arena and curling layout.

For the younger generation, Saturday was always the big day, for, upon payment of 5¢, they could get on the ice, sometimes in the mornings, but more often for the hour preceding the regular skating period in the afternoon. Those were the days of the extremely rugged rivalry between teams comprised of boys from the "Upper End" and the "Lower End" of the village. Eligibility to either team depended on whether one resided in a home south of the bridge over the Teeswater on Queen Street, or north of it. The brand of hockey was far from N.H.L. calibre. . . in fact, if a player on either of the competing teams managed to remain on his feet for ten or fifteen minutes without suffering a tumble, he felt he had enjoyed a most successful afternoon's sport. But from the beginning, developed some exceptionally talented puck-chasers, with Russell (Barney) Stanley making it to the big time, with the Vancouver Millionaires as a teammate of the great 'Cyclone' Taylor, native of Tara, when that club won the Stanley Cup. (Also on that team was Mickey MacKay from Chesley) Others, who later climbed the hockey ladder into professional ranks were George Grant and Lloyd (Tory) Gregg.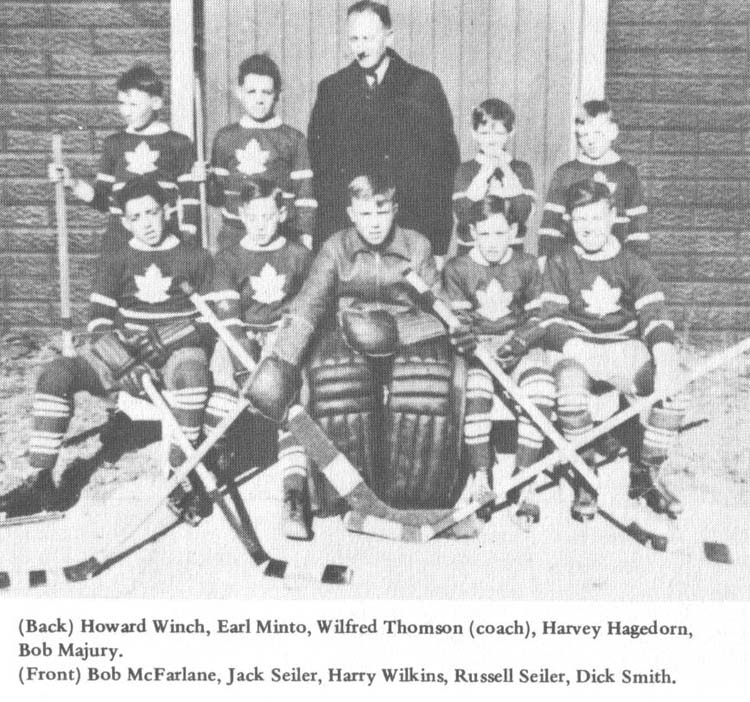 Paisley produced many outstanding hockey teams through the era from 1920 until the late 1930's with the Northern Hockey League entry intermediates making a battling bid for championship honors against teams such as Listowel, Palmerston, and the scintillating Wiarton Redmen, the latter a collection of players, including the Ashley brothers, Sox Meyers and Fred Rock, which would spot present-day senior amateur teams ten goals and still win convincingly. As we recall the line-up of that good Paisley team, it was Farewell Fletcher, goal; Charlie Murcar and Allan Shoemaker, defense; George Grant, centre; Abbie and Bill Stanley on the wings. We regret that because we are too far from Paisley to consult old files of The Advocate, we cannot recall all of the substitutes who played on this team (they were limited to two or three) but Donnie Elwes, a scintillating stick-handler was one, and our old school pal, Bill McLennan, was another.

Then, in the early 1920's Paisley developed another team that swept through all district opposition, to win a place in the Northern Hockey League championship finals. The bunch of youngsters, began playing together as a Tuxis Boys' team, and playing against other Tuxis teams as far away as Palmerston and Mount Forest, captured championship medals. The next year, the team went into the Northern League, won their grouping and two subsequent play-offs to gain a berth in the league championship round.

It turned out that Stratford Midgets, a fast-skating and big club, was eliminated from the O.H.A. playdowns toward the Memorial Cup title, and the Stratford crew entered the Northern loop, and were named as finalists against Paisley. In a fairly tight home-and-home series, Stratford won the round by four goals. Comprising the local team were: Goal, Ross McKenzie; defense John Scott and Frank Pickard; centre, Oscar Hopper; wings, Clifford Marshall and Lloyd Gregg. We are sorry, but the only substitute we can recall was Charlie Rae. George Grant coached this team.

Later, in the 193O's there were several fine young hockey clubs competing in junior series of the Western Ontario Athletic Association series, and a couple of intermediate teams also came up with entertaining hockey. Up to the late 194O's all of the games were played in the venerable old Dewar ice palace.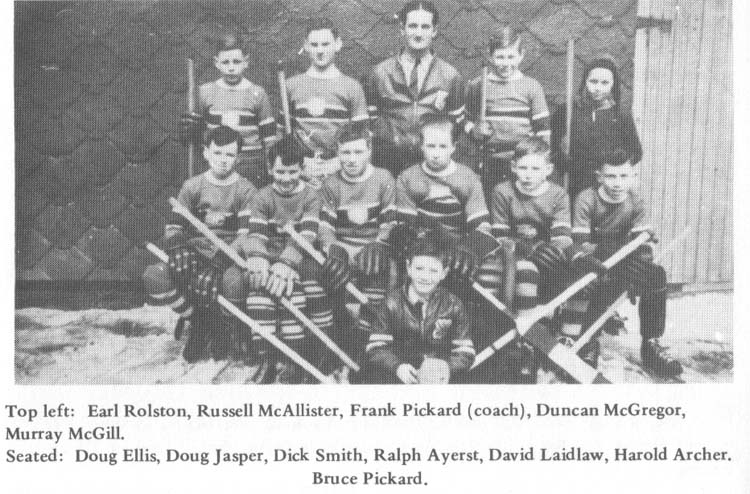 Probably the very best Paisley team ever to compete in O.H.A. intermediate hockey was assembled a few years prior to the final collapse of the old village rink. It proved to be a most formidable sextette, and included in its lineup, the following: Manager Dick Skinner, goal Danny Kelliher, defence Reg Paddon, George Grant, Babe Book, Mac Craig; centre Frank Cordick, Ray Book; R. wing Sailor Johnston, Jack Fenton; L. wing Pete Dudgeon, Murray Thompson sub-goal Alex Blue.

This team won its way over early season competition to finally gain a berth in the O.H.A. intermediate finals, drawing a very smart club from Seaforth as opponent. In a home-and-home series, the locals put up a game and sparkling battle before being ousted by the Huron county representatives. It was the closest that Paisley ever came to carrying off any O.H.A. championship title. (1940-41)

(for Ross McKenzie's reminices on the new arenas see the Arena section.)
It followed, of course, that hockey would again come to the forefront in Paisley, and for perhaps five years after completion of the new winter sports centre, residents of the southern portion of Bruce county witnessed some of the finest intermediate class hockey ever played here. Crowds came to Paisley from all over the district, and on many occasions, with standing room counted, attendance reached 2,300 and more.

Bitter rivalries were aroused, in particular that feud between Port Elgin and Paisley, when Tommy Wilson (now a member of the Woodstock fire department) was the lake town star, and big Bill Allum led the Paisley squad. We regret that our memory fails us in attempting to recall in full the lineup of the Paisley club, but this is our try at getting those names on paper: Doug Lessor, Bill Allum, Norm Dault, Mel Henry, Bud Lott, jack Lyall, "Punk" Becker, Doug Whitney, Lawrence Campbell, John Rolston, Doug Kellough, Jack Seiler, Doug Skinner, Bill Theaker.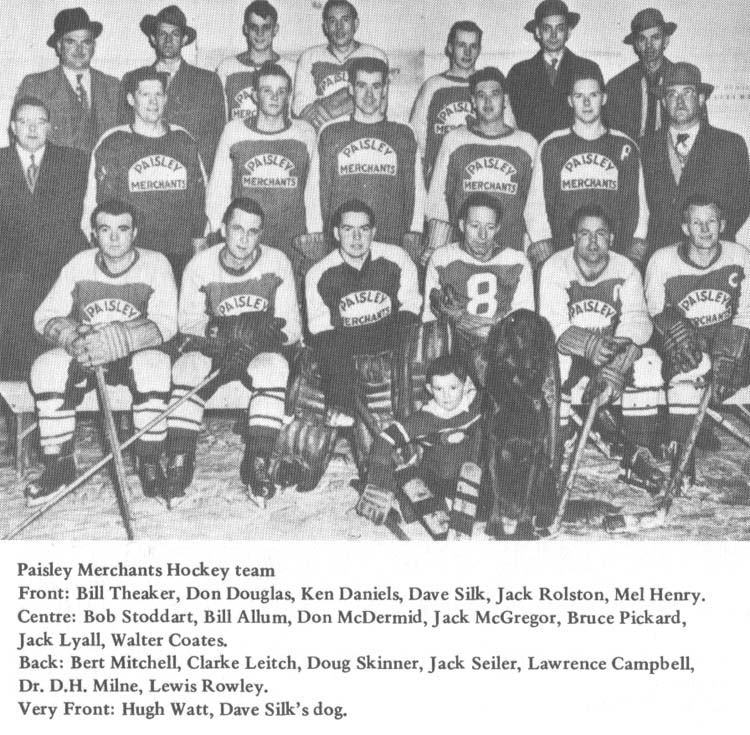 Since those days, as we understand it, the old home village has devoted most of its attention to the promotion of minor hockey, a good policy, and we know that some of their midget and pee wee teams have captured both group and provincial championships. May we, away from the old home community, look forward to learning of many more such successful seasons for teams carrying the Paisley colors.

This is a village that has had more than a good share of hockey honors. May its representatives continue to maintain the old reputation of Paisley as a "great hockey town."
Highlights of the hockey seasons now, are tournaments in which teams from local municipalities play for trophies:

Fred and Murray Grant Bantam Day (in March)
John Stout Midget Day (in February)
Rotary Club Pee Wee Trophy Day (in March).