Bruce Nuclear Power Development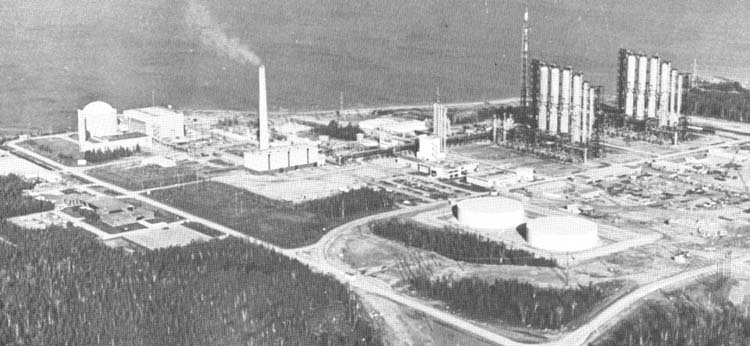 The station that started it all, the Douglas Point Nuclear Generating Station (on the left in this picture ), was the first facility to be built on the Bruce Nuclear Power Development. Owned by Atomic Energy of Canada Limited and operated by Ontario Hydro, it was built as the first full-scale version of the CANDU reactor system. It produced its first power during Canada's Centennial Year and today not only produces electricity, but also supplies steam for the heavy water extraction process.

On the right, is the Bruce Heavy Water Plant with a design capacity of 800 tons per year. It produced its first heavy water in April, 1973. Between 1974 and 1979 additional heavy water units will be added bringing the production capacity to 3,200 tons per year.
What started out as a pilot project in the early 1960's has grown to one of the largest developments of its type anywhere in the world - as well as the largest industry in Bruce County.

What originally was supposed to be only the site for the first full-scale CANDU reactor station is now the largest nuclear centre in Canada.Before completion, the facilities will represent an investment of over $4 billion and an electrical output of 6.6 million kilowatt. This will help to meet the demands of the people of Ontario in the early 1980's.
The impact of the Bruce Nuclear Power Development on the surrounding communities continues to be felt today.

Many new job opportunities have become available, and with an influx of several hundred people into the area, new services such as housing, schools, and recreational facilities have resulted from the growth and expansion throughout the community. This economic impact will continue as over 7600 workers will be employed at the Bruce Nuclear Power Development at the peak of construction in 1978.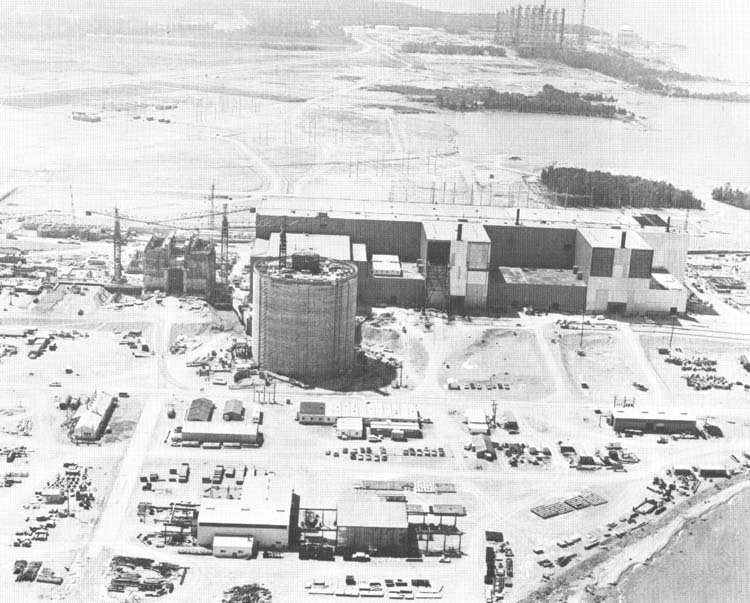 Announced in 1968, the first Bruce Nuclear Generating Station will begin producing electricity in 1975. When completed in 1978 its four units will produce 3,200,000 kilowatts - enough power for a City the size of Toronto. A duplicate station announced in June 1973 will be built between 1975 and 1983. It will be located south of the Bruce Heavy Water Plant and Douglas Point on the same 2,300 acre site that forms the Bruce Nuclear Power Development.