John A. McArthur 1865-1969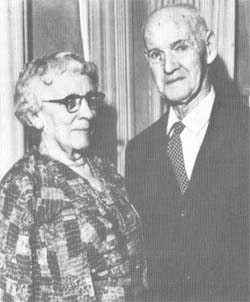 Mr. McArthur came to Paisley as an infant. After attending school here, he entered the carriage making trade in Paisley with his father, the late ].B. McArthur. With the advent of the automobile, he became one of Paisley's earliest car dealers as agent for McLaughlin-Buick, which agency he retained until he retired in 1935. Mr. McArthur continued to reside in Paisley with his wife, the former Christina McLean until 1963 when they went to live at Bruce Lea Haven in Walkerton.
Mrs. John A. McArthur

Although she was not quite 100 years old at her death, she is included in this article since it is unlikely that any couple had as many years together as she and her husband.
Mrs. McArthur (Christina McLean) was born in Saugeen Township just north of Paisley. She married John McArthur in 1900. They resided in Paisley for almost 90 years. She was active in the work of Westminster Presbyterian Church, and was an ardent horticulturalist. She passed away in May 1973 in her 100th year. Grant, Ross and Duncan are their three sons who survive.