PAISLEY SUNOCOS - O.H.A. INTERMEDIATE FINALISTS 1940-41
Front Row L to R; Alvin M. Blue, Jack Fenton, Wilfred "Sailor" Johnston, George Book, Frank Cordick, "Slim" Ayerst - Trainer, "Babe" Book, Murray Rhompson, Ross "Pete" Dudgeon, Murray Grant, Harold Crawford. Back Row; Carl Becker, F. H. Pickard, Mac "Dick" Craig, Danny Kelleher, R. George Grant, Reg Padden, R. J. Skinner, manager - Alex Blue, Inset; Lloyd Worthington, Jack Worthington, Bill Sutherland.
A DREAM COME TRUE .......
A brief History of the Steps Leading to Erection of the New Paisley War Memorial Community Cenrtre
Official Opening of Paisley`s new War Memorial Community Centre successfully culminates a campaign begun almost three years after the weatherediiold village rink, weakened through the strain and stress of upholding on its peaked roof, the heavy snow and ice of`more`t1h-an 35 severe winters, finally collapsed and fell to the ground. Loss of the building, that Feb. 22nd, 1945, was a sore blow to the sports enthusiasts of the community, and it came at an unfortunate' time in the history of the municipality. The village council had just launched an $80,000 spending 'program to give. The citizens a modern fire protection and waterworks system, and it was felt, and rightfully, that it would not be possible to further raise the taxes by extra assessment to erect an ice arena. If such a building were to materialize, it was up to the citizens to do something about it.

A few months prior to collapse of the old rink, the local newspaper had carried a series of articles advocating construction of a modern community centre as a war memorial, and to include a regulation ice hockey cushion, gymnasium, Legion and Boy Scout rooms, and rest rooms for year-round use of the public. Suddenly left without a rink, thoughts of the public reverted to those articles, and within a month, ratepayers and citizens had moved to study replacement of the wrecked structure.
With representatives present from village council, the Legion, the Rotary Club, the lodges, School Board, the Ministerial Association, Bruce, Elderslie, Saugeen, Greenock and Brant Township councils, a public meeting was held on March 19. Unanimous opinion favored erection of a new arena, and it was further decided that the proposal should be broadened so as to give the village and district a true community centre, the building to be a memorial to the young men and women who served during World War II, and gave their lives for freedom. Messrs. W. E Theaker, H. L. Matthews and A. Ross McKenzie were named to meet contractors and receive estimates on the probable cost of such a building.
Prices secured appeared out of the question, and finally H. C. Barnett suggested that it might be possible to purchase a. surplus building at the Port Albert airport.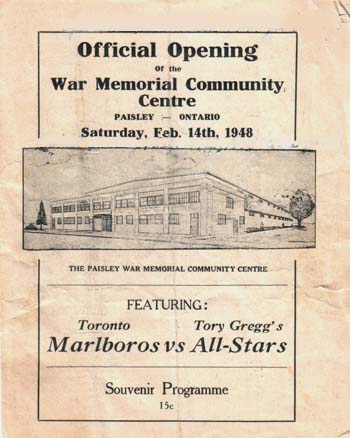 The four mentioned men visited that now abandoned flying school, and found what they sought in the drill hall there. 'Steps were taken to purchase this 160 x 112ft. sructure when it was placed on the surplus list of War Assets Corporation. At this point in the negotiations, the committee called upon Major Walter E. Harris, M.P. for Grey-Bruce constituency, and this able legislator lent his full co-operation and influence to the move to secure the Port Albert drill hall for use as a community centre in Paisley. The assistance rendered to the committee by Major Harris was invaluable and will not soon be forgotten by those whose duty it was to work with him in the matter, The deal for purchase of the airport building went through in February, 1946, and almost imrnediately a second public meeting was called, when the following committees were set up to carry out the huge undertaking:

Building Committee - W.E. Theaker, Chairman; H. L. Matthews, Jas. A. McKinnon. John Parker. A, Ross McKenzie, E. W. Grant, W. T. Hopper and O. R. Seiler.
Finance - T. R. McLennan, chairman; R. W. McFarlane, J. R. McArthur, W. S. Forrester, W. R. Thompson, R. Cumming, Peter Cutter, Dr. D. D. Campbell, Chas. Fewster and the four clergymen, Revs. Dickson, Wylie, Smyth and Chambers.
Site - Reeve S. F. Ballachey and his council, Messrs. Hagedorn, Forrester, Friar and Grant.

Publicity - A. Ross McKenzie, chairman; H. L. Matthews, W. MacDonald.

Secretary -Rev. Mr. Chambers, and later, D. B. Currie. ...... continued
A DREAM COME TRUE .. continued
The site was selected on Feb. 22nd, and in May, of the same year, A. G. Garner, a Stratford engineer, was engaged to prepare plans and specifications and supervise the building. The cement foundation was begun on June 23, and work of dismantling the big drill hall at Port Albert was started immediately after the big provincial plowing match held on the former airport, in October, Local men did the latter task in jig time, and then in the spring of 1947, Jas. A. McKinnon, over the advice of engineers, undertook to bring back to Paisley the eleven 112ft. steel, fabricated trusses. With a conveyance of his own design, and a small crew of picked men, he accomplished this task in less than three weeks. J. P. Johnstone, M.L.A., materially assisted by securing permission to move the spans in one piece.
Originally budgeted to cost $Z5,000, the costs soared as work progressed, and it was necessary to set the sights on a fund of $40,000. From the beginning the committee- was on its own, insofar as raising the required funds was required. With W. S. Forrester as the chairman, and I. Shoemaker, as treasurer, a campaign of solicitation and canvass was instituted.
More tlhan $28,000 was raised .through public subscription. Citizens of the village and rural areas responded generously; old boys and girls, residing in every part of the continent, sent back contributions: ranging from $1 to $1,000, while local organizations, township councils, and many others, made grants to the project. Today the committee requires $5,000 in order to pay off its final indebtedness, and it is hoped to wipe this out through the medium of special events 'in the Community Centre, and additional donations from friends of the project.

Envy of the entire Western Ontario area, Paisley's new War Memorial includes a regulation 175x75 ft. hockey cushion; two sheets of curling ice; a curlers' clubroom; four dressing rooms; lunch room; public rest rooms; offices, and a, press box. Hockey rooms will have showers and toilets, and the building will be steam heated. Upstairs, at the front, will be the Legion and Boy Scout rooms, with a 50x28 ft. assembly room linking the two. The arena has the finest lighting system and not a post or pillar interferes with the spectator's View of the game. Some 1,200 may be seated, while there is room for an additional 800 standing.......... continued
A DREAM COME TRUE .. continued
At a meeting held in the Council Chamber on December 1st, 1947, it was decided that, for the first year's operation at least, affairs of the War Memorial Community Centre should be administered by a Commission. The following appointments were made: S. F. Ballachey, reeve, W. S. Forrester arrd N. E. Hagedorn, representing the village council; W. E. Theaker, Earle W. Grant, Elgin Cumming, Earl Rushton, one representative, to be named by the respective township councils, representing Elderslie, Greenock, Bruce, Brant, Arran and Saugeen.

It is fitting that even the official opening ceremonies have been arranged bhrough the courtesy of former Paisley boys. More than a year ago, J. H. Stafford, president of J. H. Stafford Industries; Toronto, who was born on the town line of Bruce and Saugeen Townships, promised that he would bring his senior hockey team up to Paisley for the formal opening. Since that time, Mr. Stafford was named president of the famed Marlboro Athletic Club, whose hockey teams for years have been farm clubs for Toronto Maple Leafs.
So Mr. Stafford promised he would bring the Marlies up to Paisley to meet an All-Star club. Selection of this sextet was left to the discretion of another Paisley old boy, M. L. "Tory" Gregg, who began his hockey career with a local Tuxis League team, and concluded it after nearly eight years' service in professional hockey at Windsor, Pittsburgh and London. "Tory" is now sports commentator with CKNX at Wingham, and also serves as president of the three-year-old Western Ontario Athletic Association, which sponsors baseball, softball and hockey throughout this part of Ontario. The game on this opening night, is then, a direct result of the co-operation of Messrs. Stafford and Gregg and the War Memorial Community Centre Commission desires to go on record :as conveying sincerest thanks and appreciation to these men for their generous gesture. Thanks is also extended to Joe Primeau, coach of, the Marlboros, and every one of 'his players, and to each of the All Stars, who are similarly giving of their time and services without expense to the Commission.

Is it any wonder that Paisley is proud of this magnificent achievement?