A Century of Sports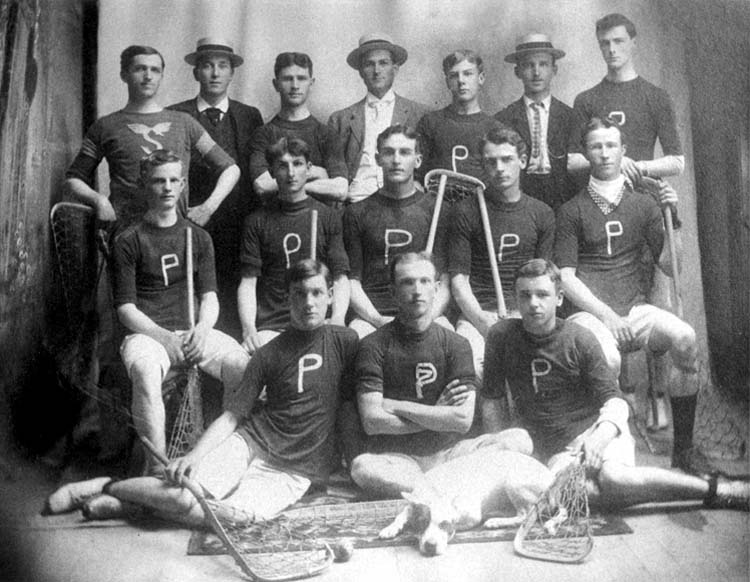 Paisley Lacrosse Team 1907
Front row; Jimmy Forrester, Billy King, ?? Flood
Middle row; Stanley M. Gill, Frank Boyle, Alex Hopper, Alton Sheppard, Lauchie Brown
Back row; Jim Ellis, Archie Sinclair, Dave McGill, Dr. Marrs (Dentist), Norman Sheppard, Frank McClure, ?? McCutcheon

Sports
From the earliest days of Paisley, sports seem to have been in evidence among the citizens. News items in old copies of the Advocate make reference to football and cricket as probably the first sports to be competitive. Other than these references we have been unable to obtain anything more specific.

Advocate, May 21, 1885:
"Football is the only game in Paisley that seems to be booming, but Cricket practice will shortly be resumed."

Advocate, _Iune 11, 1885:
"Paisley senior football club plays Chesley to-morrow. Success to our boys! "

Advocate, june 18, 1885:
"The Paisley senior football club met Chesley last Friday and played a draw match with the Lornes of that village. No goals were taken on either side, and the match was a decided tie. The return match will be played here on July first."

Advocate, August 13, 1885:
"An interesting game of cricket was played last Friday between the Paisley and Chesley clubs, at Chesley. It terminated in a victory for Paisley by 46 runs. The best feeling existed between the teams. Paisley boys were well pleased with the manner in which they were treated." The Paisley team lists the names; J. McCool, W. Scott, B. Vance, Dr. McArton, W. Reid, C. Briggs, A. Megraw, T.A. McLean, F. Sheppard, H. Fisher.
Lacrosse
Handed down by the Indians, this was one of the early field sports. At the turn of the century, records indicate that good lacrosse teams were in the field. There were ten men to a team: goal, first and second point, point and cover point, centre, first and second home, inside and outside home.

Angus McKinnon, who learned lacrosse in Paisley, went on to play with St. Simon's of Toronto, which won the Canadian championship.

The accompanying picture shows a team in which Teddy Ellis, goal tender, Ab. Archer, home, and Lou Rankin, point, are still living.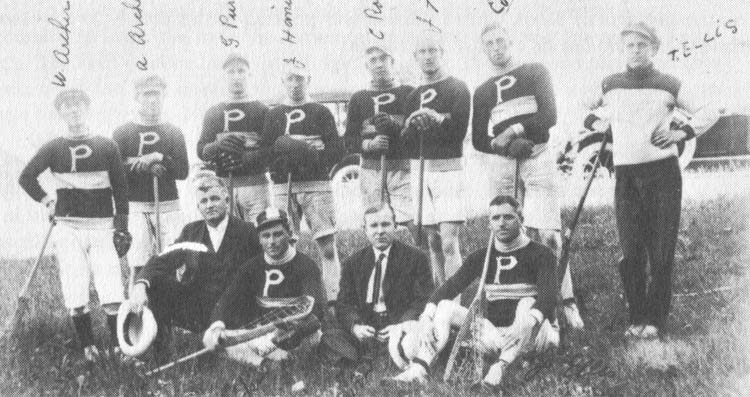 Back row; W. Archer, A. Archer, S. Purdy, J. Hamilton, C. Rolston, J. Forrester, Ed Erdman, Teddy Ellis. Front row; D. McArthur, L. Rankin, G.B. Irwin, J. Ellis.