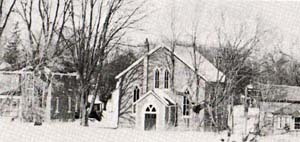 Paisley Baptist Church
Submitted by Mrs. Jno. MacDermid
Clerk Paisley Baptist Church
In 1868 the present building was erected on a site purchased from Mr. Peter Sinclair along the banks of the Saugeen River. For ten years prior to the building of the new church the congregation had been worshipping, first on the Elora Road North, in a log building located on a small lot, immediately south of the present building (formerly U.S.S. 7 & 8 Elderslie & Saugeen School).
The original church had a gallery but this later was removed. In 1895 a shed was built for the accommodation of horses of the country members. This too was removed with the advent of cars. ln 1889 a parsonage was erected alongside the present building. In 1966 it was sold as the present congregation is affiliated with the Chesley congregation, the Pastor residing there.
The first pastor was Rev. Donald McNeil, a native son who lived a few miles north of Paisley. The Williscroft Baptist Church, 12th Conc. Elderslie Twp. was united with Paisley from 1868-1960, when it closed. Six years after the opening of the new church the membership was 310. Rev. Donald McNeil baptized 48 converts in one day. Some of the members of this early congregation who went into the ministry were; Rev. Donald McNeil, Rev. Jno. MacLachlan, Rev. Gilbert Lamont, Rev. Arch. C. Campbell, Rev. Dr. ]no. MacNeil, and his brother Rev. Arch. MacNei1.
Pastors who ministered to this congregation were - Rev. Donald McNeil, 1868-1878, Rev. Campbell, 1878-1882, Rev. ]. C. McDonald, 1883-1888, Rev. P.H. McEwan, 1888-1892, Rev. M.C. Vansickle, 1892-1895, Rev. W.H. Stevens, 1895-1898, Rev. J. J. Reeves, 1898-1902, Rev. J. O'Neil, 1902-1907, Rev. L. J. Steadman, 1907-1910, Rev. E J. McEwan, 1910-1915, Rev. M. Neilson, 1915-1919, Rev. H.C. Packam, 1919-1923, Rev. ].A. MacLuckie, 1924-1927, Rev. A.S. Parnell, 1927-1929, (Student) R.F. Sneyd, 1929-1930, Rev. L.E. Mason, 1930-1935, Rev. H._I. Balsdon 1935-1936, Rev. A.P. Wilson, 1937-1941, Rev. H. Chambers, 1941-1949, (Student) R. Holley, 6 months, 1949, Rev. J.N.H. Norton, 1950-1960, Rev. M. Dolan 1960-1963, Rev. D. Ropp, 1964-1967, Rev. Jno. Ward, 1967-1968, Rev. E. Young, 1968-1972, Rev. I Walker, 1973-.