Friday Program - November 3, 2006 ....... Click on underlined items for more info
Friday, November 3 was what is known around here as "Orphan Day". The first Friday of every month bears this name and here is what happened on my first "Orphan Day" at Kilema.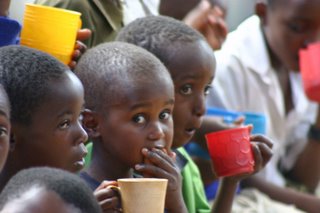 The children began to arrive around 9am . They make their way here on foot from wherever their village may be, some walk for 2 hours to get here. The children arrive in groups, they may be family members, but many are neighbours and friends. Quietly, they make their way to Anna's office and sit on the benches located outside. Eventually the benches fill up and the older children are sent to get more benches. Others are given brooms to sweep the area and they help each other in completing their task. By about 10 the area is full and there are children sitting on the walls, in the garden and on the steps behind the waiting area. At this point it looks to me as if they are bored so I start to do a bit of an English lesson. I look out into a see of faces that all seem to say the same thing "Who is she and what is she doing?" All the children are quite shy and eventually I get a few responses but it's at this time that Adela begins to ask to register the new orphans. Those that have not been on a Friday before are asked to give their name, village and guardian/family information. The doctor then arrives and takes a group of children who are not well. He examines them and gives them medicine if necessary. Healthcare is free for orphans here at Kilema.
It's time to count…a grand total of 380 children have arrived, a new Kilema Orphan Day record! The only issue here is we have no idea if all these children really are orphans or if word is spreading of free food and health care at the hospital on these Fridays. Enter the need for a program which we are working to implement that will identify those who are orphans and in the most need.
Tea and bread arrive for everyone and once they are finished eating they line up at the gate for their bag of foodstuffs. This week it is about 2 cups of ground maize and half a bar of soap. The boys are pushy and Adela tells them the girls will get their food first as they are more well behaved. This entire process takes quite a while but my favourite part was the guard at the front (a sweet elderly Tanzanian man), with his stick, threatening the boys to move back while swinging his stick wildly in the air. Finally we hand out all the bags and they are gone, just as quickly as they had come, only several hours later!
Weekend road trip - Saturday, November 4, 2006
Saturday morning we hear the car (this means someone is going somewhere and we may be able to hitch a ride). As it turns out Makundi (the contractor at the hospital) and Severini (the driver) are heading to Himo to pick up some door frames. We decide to hop in and off we go, with a few others in the back of course (there are always a few others in the back and usually we pick up a few more during the trip). The drive to Himo is beautiful, we wind our way down the mountain through lush tropical surroundings on a rocky red dirt road, at this point I always appreciate the fact that I do not have motion sickness, if I did I don't think I could ever leave the hospital. Because it is a Saturday the market near Himo is open. This brings people out to the roadside, walking with their wares to/from market, if it is a heavy load it will be carried on their heads, incredible balance, especially considering they are not walking on anything that even resembles a flat surface! The women here are incredibly well dressed. They all wear kanga, which is a bit like a sarong. It is a long piece of cloth that is printed in some combination of incredibly bright colours. The kanga can be worn simply wrapped around the waist like a long skirt and many will wrap it over their outfit (as many of the Sister's do, I always marvel at how they keep their white outfits so white!). It is also worn around the shoulders as a wrap or on the head. Often the kanga are sewn into dresses, skirts or shirts, a very versatile piece of fabric! Finally we arrived in Himo at the wood working shop and watched in fascination as they loaded and secured several extremely long pieces of lumber to the cab of the truck. Severini headed back to Kilema while Makundi, Ahmad and myself piled into a dala dala, destination Moshi.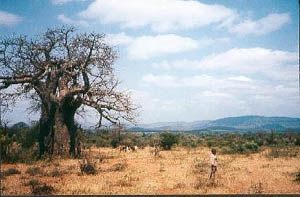 The drive to Moshi is beautiful, even when crammed in a small vehicle with 30 or so other people and very little ventilation. My favourite trees in Tanzania are the baobob trees, which you happen to see many of on the drive from Himo to Moshi. These trees are impossibly large and entangled in themselves and shoot up in the middle of large arid plains of otherwise quite unimpressive shrubbery. There is a story that the baobob trees used to run around on their roots and get into lots of trouble (as only baobob trees do), finally God had enough of these baobob antics and stuck them in the ground upside down, roots to the sky, which is truly what it looks like. So I guess that was it for the adventures of the baobobs, but they remain an impressive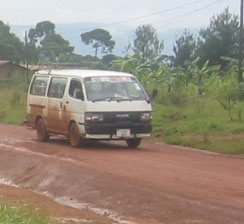 sight. On the subject of trees I am also a big fan of the jacaranda tree…all purple blossoms, the whole thing, purple. I believe they are losing their flowers these days though so I will try to take a picture before they are back to regular old green.
In conclusion we made it to Moshi, had some lunch, played on email for a bit, did some grocery shopping and hopped back in the dala dala for the return trip. The return daladala trip was my cosiest yet, as I was in the front squished between two Tanzanian mama's and leaned on by another. I ended up holding her Sprite and sunglasses for her as this is difficult to manage whilst half standing in a moving vehicle.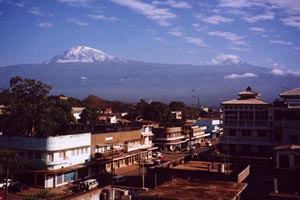 On the way out of town I saw my first Tanzanian wedding. There were two pick-up trucks, the happy couple was standing in the back of the first, leaning on the cab, looking happy indeed and that truck was followed by a second pick-up with an entire brass band in the back, playing away on their trombones and such as the whole procession made their way around the roundabout (which by the way is known here as the "keepi lefti"…I love it!)...... Moshi shown on the left.
Adventures in Marangu - Monday November 6, 2006
On Orphan Day, several women from another organization running an OVC program came to visit Kilema to see what the Friday program is all about. They invited us to go and visit them at their office on Monday. And so we did.
Their organization, UMWI, is located near Marangu, which is not that far from Kilema. Getting oneself there requires a 2km walk to the daladala stand and then a 20 minute daladala ride. We headed out the hospital gates and down the road towards the daladalda stand when we managed to flag down a passing land rover. Most people around here will give a ride if they have room in their vehicle. As it turned out the driver of the landrover was from Austria , he was in Tanzania with his wife, daughter and friend. His wife will actually be visiting Kilema later this week as she is a doctor. They agreed to give us a ride and we hopped in. In the back seat I found myself next to Agness, a Tanzanian mama and her granddaughter, Grace. As the story goes, Agness's son is a priest and lived in Austria for 5 years, since that time she has visitors from Austria showing up on her doorstep on a fairly regular basis. She was a sweet woman and she has been to Alberta , Chicago and Detroit as her children are living there. We hitched a ride as far as Marangu, thanked them and went in search of the UMWI office.
The people at UMWI are incredible. They began in 2001 educating the public about HIV/AIDS prevention and reducing stigma. Stigma is a problem in many places, due to the lack of education about HIV/AIDS, people living with HIV/AIDS may find themselves ostracized from their family and community. At the time that we arrived, they were in the process of developing their 5 year strategic plan.
UMWI now has four divisions: orphan and vulnerable children, peer education, Home-based Care and voluntary counselling and testing (VCT) services. Many of the people who work there volunteer their time and they achieved NGO status in 2004. They currently run all these programs with very little funding and Ahmad and I agreed to help them find additional funding. They have identified 2100 orphans and vulnerable children in the Marangu district and only have the funds to support 150. This seems to be a consistent theme around here, people are mobilized and organized but the funds are lacking.
After meeting to discuss their programs and how we could form some sort of relationship they asked if we would like to accompany them on a home visit to some of the orphans that they sponsor. We thought this sounded like a great idea, especially since we will be starting our own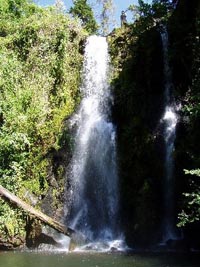 home visits at Kilema in December. We would hop in a daladala to Marangu and they explained that from there it would be a 30-minute walk and that we would take the short cut. If you find yourself in Tanzania and someone tells you it is a 30-minute walk, it is entirely possible that they mean 3 hours and that by short cut, they mean UPHILL. However, the walk was gorgeous, past waterfalls, through incredible open meadows, along a river, constantly surrounded by impatients, hibiscus, and various tropical fauna that I couldn't name. The other day we saw a tree that had what looked like pink orchid blossoms, white blossoms of a different variety AND large seed pods. All on one tree! Beautiful things seem to spring out of the ground everywhere you look.